Buy as many properties as you can throughout your life and never sell them.
As you can see from the Case-Shiller US National Home Price Index, the real estate bubble and subsequent crash was an anomaly. Prior to that there were 30 years of sustained growth. Sure, local markets went up and down, but on a national average, prices steadily rose for 30 years. Even if you bought at the top in 2006 you would be back to even today. Your 30-year mortgage would be paid down by 20% and you would be sitting on a pile of equity. Had you bought steadily throughout your life, before, during, and after the bubble, and never sold, you could be a millionaire.

Follow my journey to see how buying properties consistently throughout life has turned me into a millionaire and see how you can become a millionaire too.
How I Became A Millionaire
My investment journey started with the concept of diversification. Like any bright young graduate straight out of college, I started contributing to my 401K in October 1999. But I wanted greater diversity than just stocks. Real estate was calling me. In August of 2000, I bought my first property, Property #1 in the Property Values graph below.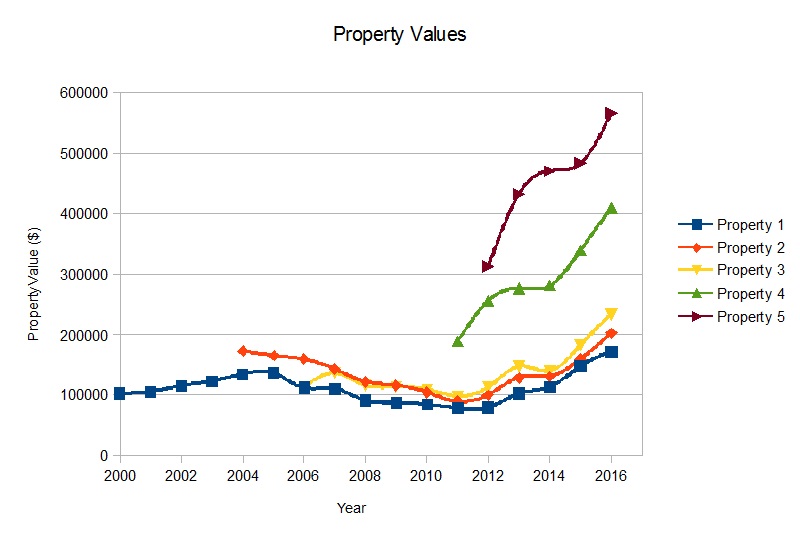 I moved into it, but from the beginning I viewed it as an investment. During the next 4 years I continued investing in my 401K and saving for my next property purchase. In the spring of 2004 I bought my second property (Property #2 in the chart above), moved into it, and turned the first into a rental. I was officially a real estate investor! Yay me!
Approximately 6 months later, I realized that Property #2 wasn't a very good purchase. Long story short, it was the best property in a not so great neighborhood. At this point I decided I needed to better educate myself in real estate investing. Over the next year, I read over a dozen real estate investing books, joined a local real estate investing club, and even took some of those paid educational classes. After all of that, I decided my next purchase would be a fix-and-flip.
Property #3 was my first fix-and-flip. I bought it in February 2006. From the educational effort I went through after purchasing property #2, I knew that hiring people to do the fixing is the best way to go if you want to do a fix-and-flip. The fixing part of a fix-and-flip should only take about a month. I however went against the education that I just learned because I wanted to further educate myself on my first fix-and-flip. I wanted to educate myself on how much work it actually is to do everything that is needed to make a house beautiful again. So I decided to do it all myself. Well, I succeeded in educating myself, however I failed to flip the house. About 4 months into the fixing, I lost motivation and the work slowed because I just didn't enjoy the act of fixing up a property. It was a real pain! A couple months later I hired a guy to help me with certain aspects of fixing the property, and about a year after I originally purchased property #3, the fix-up was complete. The real estate market was not cooperating with me and by the spring of 2007, we were well within the beginnings of the real estate crash. I realized the property was no longer going to sell for a profit, so I decided that turning it into a long term rental was my next best option.
With the real estate crash in full force I continued to put money into my 401K, which was being pounded by the stock market crash, and save for my next real estate purchase. With real estate prices down nearly 50% in the Denver area (depending on which part of town you were looking at), I was excited to find another property to buy. After not really enjoying the fix-and-flip of property #3, I was back to looking for a long term hold for property #4. I wanted cash flow and the best cash flow properties are multi-family properties. I was looking for a duplex, triplex, or 4-plex for my next purchase. In the fall of 2010 I found a triplex that was being listed as a short sale. I put my offer in sight unseen because I knew good deals were being snapped up in a day or two. The bank picked my offer. I had to borrow from my 401K for half of the down payment, but Sometimes Its Smart To Borrow From Your 401K. A short six months later, I was the proud owner of a triplex!
I bought Property #5 just a year later during the early stages of the real estate recovery. I was tapped out on cash, but found a HUD property that I could purchase with just $100 down payment if I moved into it for at least a year.
Putting It All Together
In the Property Values chart above, you can see that the real estate market in Denver has recovered. Although many of my properties had negative equity during the real estate crash, the value of each of my properties is now greater than when I purchased them. Some have significant equity.
The chart below shows how much equity. I've combined the equity of all properties into a single Property Equity line and compared that with the value of all my stock investments over the past 17 years.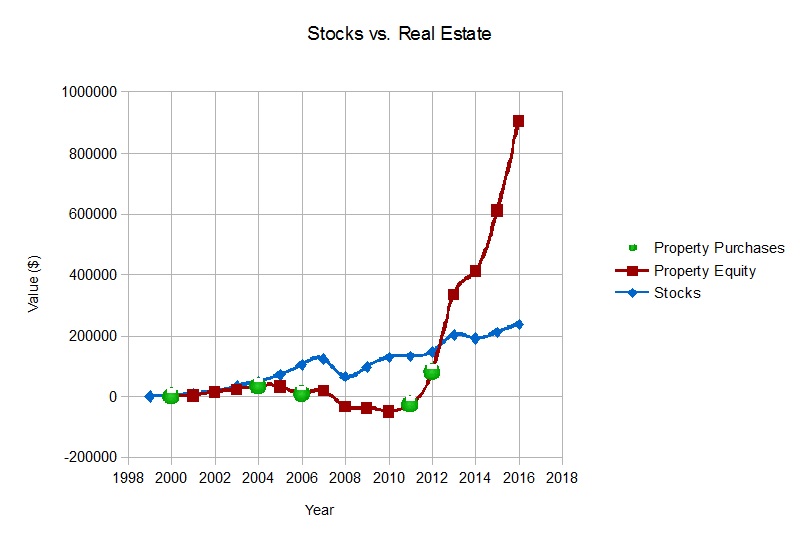 Stocks were winning for the first 11 years of my investing career but I maintained faith that I would eventually come out on top with real estate. The two combined have made me a millionaire!
How You Can Become A Millionaire Too
You can invest in real estate too! If you do it like I did, you won't become a millionaire over night. Heck, it took me 17 years! But with steady purchases over time, I'm a firm believer that you will eventually get there.
You may be thinking that now is not the best time to buy real estate, considering we're 5 years into a rather strong market recovery. If you have a long term horizon, say 30 years, its not going to matter a whole lot as to when you make your real estate purchases. If you buy them steadily throughout your life, and if you buy them in a way where they are at least self sustainable from a cash flow perspective, you can hold onto them forever. Make sure you educate yourself on your local market and on real estate investing in general.
From the Case-Schiller National Home Price Index chart at the top of this article, you can see that a steady price increase in real estate is the norm. From the example of my own real estate purchases, even if you buy them at the exact wrong time (Property #3) right before a crash, if you hold onto them for long enough, they will recover. Property #3 is now worth nearly twice what I originally paid for it. Don't try to precisely time the market. Steadily buy throughout your life and you will become a millionaire.